The great photo from the Stalowatt LP sleeve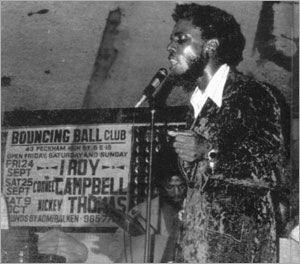 Cornel performing in London in 1973
Mister Soundtapes presents Cornel Campbell ~ 10th February 2014
The Don Gorgan in interview recorded at Rhum Jungle, London in 24th July 2013
Nothing Can Stop Us- Cornell Campbell Meets Soothsayers (Strutt) 4:02
I Will Never Change- Cornell Campbell (Striker Lee) 2:58
Please Be True- Cornell Campbell (Jackpot) 2:29
Make Hay- Cornel Campbell (Randy's) 2:48
The Last Time- The Sensations feat T McCook & The Supersonics (Treasure Isle) 3:00
Let The Music Play- Cornell Campbell & The Baba Brooks Band (Peckings) 2:28
Turn Down Date- Cornel Campbell (Studio 1) 2:34
Reach Out Darling- Don Cornel & The Eternals (Moodisc) 3:00
Let's Start Again- Don Cornel & The Eternals (Moodisc) 2:56
Push Me In The Corner- The Eternals (Moodisc) 2:15
Darling Forgive Me- Cornel Campbell & The Supersonics (Peckings) 2:25
Stars- The Eternals (Studio 1) 3:07
Queen Of The Minstrels- The Eternals (Studio 1) 3:21
The Minstrel- Cornel Campbell (Justice) 3:25
I'm The One Who Loves You- Cornell Campbell (Neville sounds) 2:12
You're No Good- Cornell Campbell & The Eternals (Jackpot) 3:00
Didn't I- Cornel Campbell (Lee's) 3:36
Pity The Children- Cornell Campbell & The Eternals (Jackpot) 2:34
Natural Facts- Cornell Campbell (Neville Sounds) 2:40
Gorgan- Cornel Campbell (Attack) 2:32
Conquering Gorgan- Cornell Campbell (Grounation) 3:28
Stalawa- Cornell Campbell (Jackpot) 2:52
Investigator- Cornell Campbell (Striker Lee) 3:35
Prisoner Of Love- Cornell Campbell (Justice) 3:00
Release Me- Cornell Campbell (Jamaica Sound) 3:32
Duke Of Earl- Cornell Campbell (Monicas) 3:26
Yes- Cornell Campbell (Koos) 3:42
My Sweet Baby- Cornell Campbell (Abraham) 2:41
Blinded By Love- Cornell Campbell (Abraham) 3:01
The Judgement Come- Cornell Campbell (Thompson) 3:25
Jah Jah Give Us Love- Cornell Campbell (Wambesi) 3:18
Mash You Down- Cornel Campbell (Ossie) 3:03
Follow Instruction- Cornell Campbell (New Star) 3:30
Gemini Special- Cornell Campbell (Sound tape) 4:05
Dem Lie (Daddy Noc Special)- Cornell Campbell 3:29
Bandulu- Cornell Campbell (Select Cuts) 3:18
No Man's Land- Cornell Campbell (Joe Gibbs) 2:30
Rope In- Cornell Campbell (Joe Gibbs) 3:10
Boxing- Cornell Campbell (JGM) 4:19
Ten To One (live on Downbeat)- Cornell Campbell (Sound tape) 1:13
My Heart Is Clean- Cornell Campbell (Observer) 3:31
Conversation- Cornel Campbell (Digital B) 3:36
Rock My Soul- Cornel Campbell (Sip A Cup) 3:33
Soul Rebel- Cornel Campbell (Striker Lee) 2:38
I'm Still Waiting- Cornel Campbell (Studio 1) 3:20
Lickie Lickie- Cornel Campbell (Mafia & Fluxy) 3:30
Natty Don't Go- Cornel Campbell (Cultural Warriors Music) 4:03
Don Gorgon- Cornel Campbell (Jah Life) 3:33
New Scroll- Cornel Campbell (CD) 4:39
Jah Jah Me No Born Yah- Cornel Campbell Meets Soothsayers (Strutt) 4:25
Listen-
http://www.mixcloud.com/StephenT/mister ... 4-july-13/
Download-
http://rg.to/file/18836244f916337e7d2a1 ... 4.mp3.html
Massive thanks are due to Cornel Campbell for 45 years of amazing music so far, to Robin from the Soothsayers who enabled the interview to take place and to Terence for his assistance in the interview and for taking pictures but especially for getting the beers in!
Cornel Campbell Meets Soothsayers looking very cool indeed!
Catch them at a venue near you- they have an excellent live show
I met Cornel as he prepared for this show
Wicked 2013 album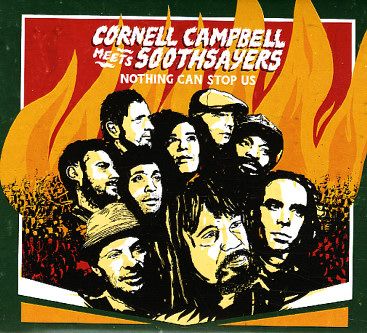 Excellent album from 2012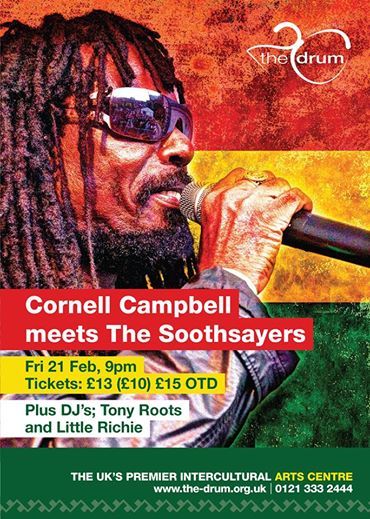 Birmingham flyer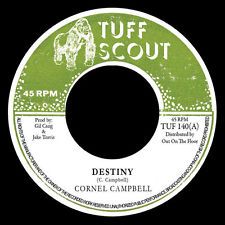 The new 45 I don't have yet- top of my wants list!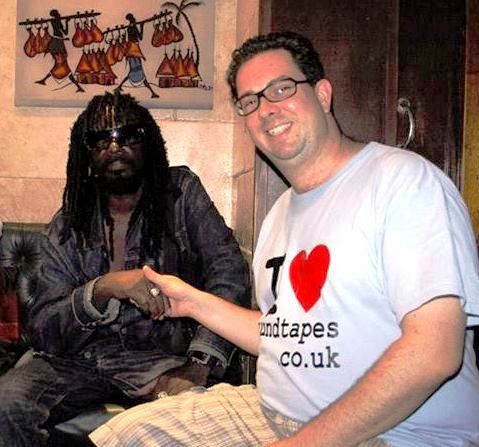 One of the highlights of my life so far!