I've been listening to these three albums a bit lately and I enjoy them not only for being different from most of today's productions but they're also very good sets.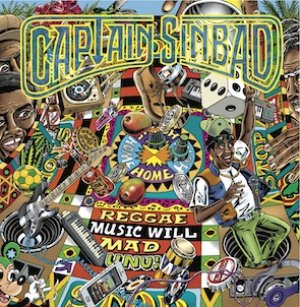 Captain Sinbad - Reggae Will Mad Unu (Maximum Sound LP)
-- A showcase in a classic style. What's interesting about it is that the productions sound like a worthy update of the early 80's sound and Captain Sinbad himself seems to have no problem at all picking up the microphone after his almost 30 year hiatus from deejaying (the latest release I've heard from him is from 1986 and prior to that I only know of releases from 1983 and back). I'm guessing he probably has released some self produced stuff after that but I can't think of any. None the less. The album is presented in a showcase style and is a thoroughly enjoyable ride.
Wild Belle - Isles (Columbia LP)
-- Not a strict reggae album as it ventures into pop and rock territory. At parts the influences from Lily Allen can be heard which is nice since Lily is a great artist! If you don't have any problem with a set that takes influences from not only reggae it could very well become one of those memorable albums from 2013. Songs like »Love Like This«, »June« and »It's Too Late« (which credits Mittoo ... I'm thinking they refer to »Too Late To Turn Back Now« which is a Cornelius Bros and Sister Rose original) have a fresh take on modern reggae. I'm thinking that if this album becomes a hit (backed by Columbia an' 'ting) they'll venture even further away from reggae.
The Lions - This Generation (Stones Throw 8x7")
-- You can always count on Peanut Butter Wolf for bringing forth interesting stuff. This album is pretty straight forward reggae with heavy influences of soul. Live musicians doing both original numbers and covers (the cut of Freddie McKay's »Picture on the Wall« is quite worthwhile even though no cover I'm certain can better it). Some of the songs touch up steppers (»Revelations)«, other the typical reggae skank (»Padre Ichiro«) and others try to sound like rub-a-dub in the hands of Junjo or Linval (»More/Higher Ways«). The vocals rarely try to imitate the JA pattan and are more of a contemporary style. The vinyl issue is all singles and features dub cuts which isn't available on the CD issue from what I've understood. »
You can't roll no spliff on an mp3
«. I would never roll one on a 12" either!
Also I must say I really enjoy the cover art on the two first sets! Are there any other new albums (which for me could be from even 2012) that are worthwhile to hear for one that is tired of hearing reggae producers treading the same old waters?